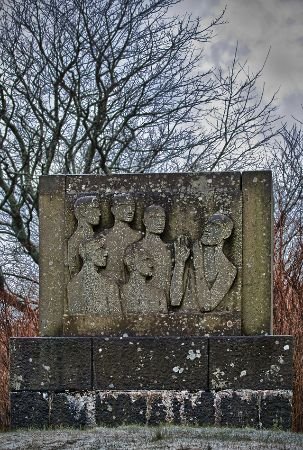 Monument over Faroese language. V. U. Hammershaimb (1819-1910), father of Faroese written language, educate Faroese pupils in their own language. Artist: Janus Kamban.
Faroese Language
The ministry of culture is responsible for the language policy of the country. The Faroese language is the basis of our culture and our society, and it is of great importance to preserve and develop the Faroese language.
The ministry among other things bases its policy on a report from 2007 called Málmørk. The report makes 76 recommendations to the public authorities.
The Faroe Islands do not have a law on language, but it is stipulated in the Home Rule Act from 1948 that Faroese is recognised as the official language. It is also stipulated that Danish should be learned thoroughly and can be used in public relations. This is due to the fact that the Faroe Islands are a self-governing country within the Danish Kingdom. Faroese was accepted as an official language in school in 1937 and in church in 1938.
As an advisory institution in language matters, the Faroese Language Committee was founded in April 1985. You can find information on the Committee in English here http://www.fmn.fo/malnevndin/about.htm.