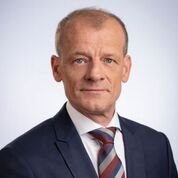 Jørgen Niclasen, Minister of Finance
Jørgen Niclasen was born on January 17th 1969. His parents are Hervør and Niclas Niclasen. Mr. Niclasen is married to Annelena Vest Niclasen. Toghether they have three children and live in Sørvági.
Mr. Niclasen has a General Certificate of Education within mathematics and physics from 1988.
Since 2007 Mr. Niclasen has been the party leader of Fólkaflokkurin, the People's Party.
For several periods of time Mr. Niclasen has served as a Minister. From 1998-2003 Minister of Fisheries, from 2008-2011 Minister of Foreign Affairs. Minister of Finance from 2011-2015 and was again appointed in September 2019.