An historical milestone has now been reached with the official population of the Faroe Islands exceeding 50,000. The latest report from Statistics Faroe Islands concludes that on 1 April, 50,030 people lived in the Faroe Islands.
This milestone was commemorated by the Prime Minister, Aksel V. Johannesen, yesterday when he visited the maternity ward at the National Hospital. He thanked the staff for their enduring work and said that reaching 50,000 residents is not an objective in itself, but an encouragement for his government and the rest of society.
"We have an enourmous responsibility to ensure that we have a country and society in which there is room for everyone to flourish", said the Prime Minister.
While it is difficult to individually identify Faroese resident no. 50,000, calculations indicate that he or she could have been one of the babies born during the first week of March. All newborns born that week have been invited to take part in a celebration to be hosted by the Prime Minister on Monday 10 April.
"Reaching 50.000 is a true milestone in Faroese history. Just a few years ago the notion of "Exit Faroes" stole the headlines and set the agenda with the message that the Faroe Islands were losing the younger generation to the outside world. Young people pursuing an education overseas were not returning to the Faroe Islands. Exit Faroes has now become Enter Faroes. Many who have studied and lived abroad are returning. Foreigners also move to the Faroe Islands to live and work. More and more children are born in the Faroe Islands and Faroese women continue to have more children on average than in most other Western European countries," said Prime Minister Aksel V. Johannesen.
(Picture above: Archive image.)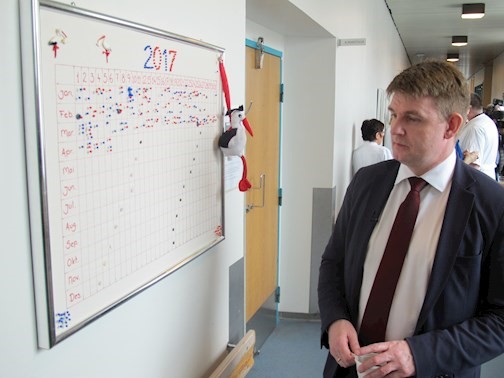 (Babies born in the National Hospital are highlighted with pins on a board in the hallway.)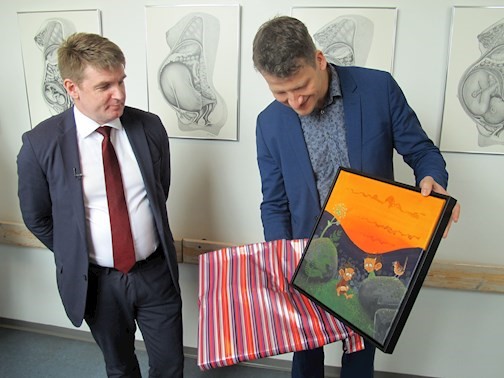 (Aksel V: Johannesen, Prime Minister and Johnny í Grótinum, director of the Nationa Hospital.)
Population in the Faroe Islands 2011-2017