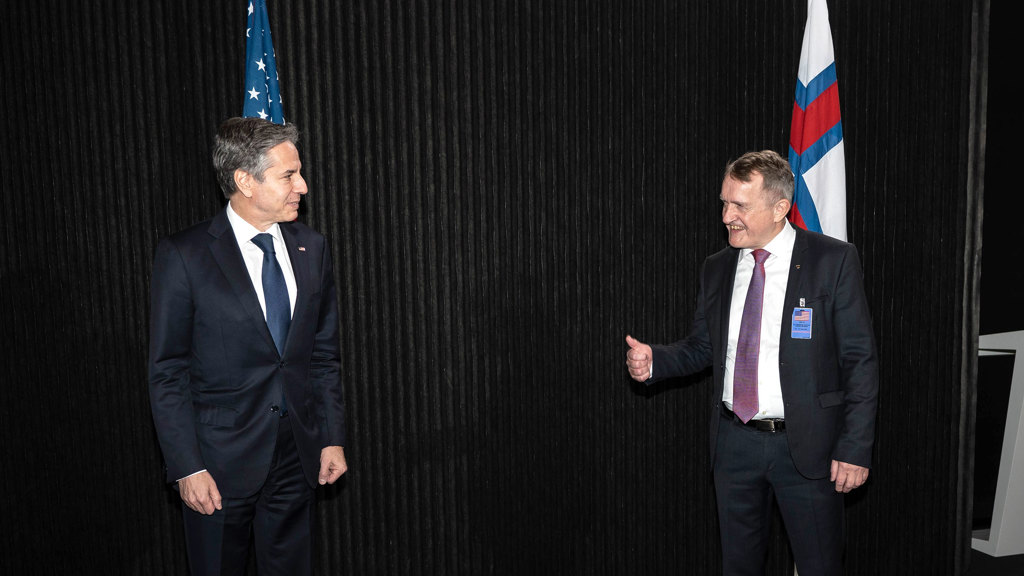 This morning Faroese Foreign Minister Jenis av Rana met with his US colleague, Secretary of State, Antony Blinken.
They discussed relations between the Faroe Islands and the United States and the Partnership Declaration signed last year, noting this as a major vehicle for increased cooperation in areas such as trade, business and industry, sustainable energy, research and education.
The Arctic and North Atlantic were also on the agenda. Foreign Minister av Rana emphasised the importance of international cooperation and multilateral engagement in the region to meet future challenges, maintain low tension, ensure innovation and sustainable development and protect Arctic ecosystems. A Faroese diplomatic representation in Washington and a US consulate in the Faroe Islands were also mentioned.
"Signing the Partnership Declaration last year was a first step and we have now discussed the next steps forward in relations between the Faroe Island and the US. Our priorities coorrespond in many areas and we have overlapping interests when it comes to security, trade and sustainable development based on scientific cooperation. Conditions are very good for strengthening our relationship with new and mutually beneficial initiatives," Jenis av Rana said.
The meeting took place in Copenhagen. Also present during the meeting were Danish foreign minister Jeppe Kofod and Greenlandic foreign minister Pele Broberg.