04.03.2019 · The Government
FaroeseSeafood.com – new online information on seafood from the Faroe Islands
www.FaroeseSeafood.com is a newly-launched information platform introducing seafood from the Faroe Islands to a broad international audience. In addition to giving an overview of the main marine species exported from the Faroe Islands and their qualities as food, the new site also describes the management and legislative framework in which the Faroese fishery and aquaculture industries operate. The website includes an Exporter Directory, providing an overview of companies exporting seafood from the Faroe Islands and the different products they offer.
FaroeseSeafood.com is a collaboration between the Ministry of Foreign Affairs and Trade, the Ministry of Fisheries, the Faroese Fish Producers' Association, the Association of Faroese Shipowners and the Faroese Fish Sellers' Association.
Renowned Faroese chef, Gutti Winther presents the pure taste of the Faroe Islands
Faroeseseafood.com also features eight short videos with popular Faroese chef, Gutti Winther preparing creative dishes from fresh Faroese seafood. These exclusive video recipes can also be found on the Youtube channel "Faroese Seafood".
Among Gutti Winther's productions is the television series Spískamarið (The Nordic Pantry), which has also been broadcast in Denmark and Sweden. The videos have been produced in collaboration with Visit Faroe Islands.
Four new cooking videos with Gutti Winther are scheduled for release later in 2019.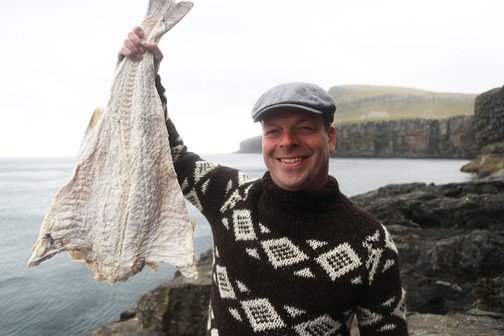 A leading player on the international seafood market
The Faroe Islands are amongst the largest exporters of seafood in the world, selling seafood products on six continents.
Over the past century the Faroe Islands have evolved into one of the foremost capture fisheries nations in the world. The Faroese aquaculture industry developed in the 1960's and has since become a key player on the international market.
In 2017, the Faroe Islands exported 572,520 tonnes of seafood produce at a total value of 1.17 billion Euro per capita, the Faroe Islands are by far the largest fisheries and aquaculture nation in the world.
Faroese Fisheries Research Fund
FaroeseSeafood.com has been supported with funding from the Faroese Fisheries Research Fund, Fiskivinnuroyndir. This is a dedicated research fund established by the Ministry of Fisheries aimed at enhancing the productivity and economy of the fisheries industry by stimulating scientific and commercial research and development projects in all aspects, from harvesting and processing to sales and marketing. The emphasis is on collaborative projects between the private sector and public Faroese research and development institutes to find new ways of maximising marine resources and ensuring their long-term sustainable use.