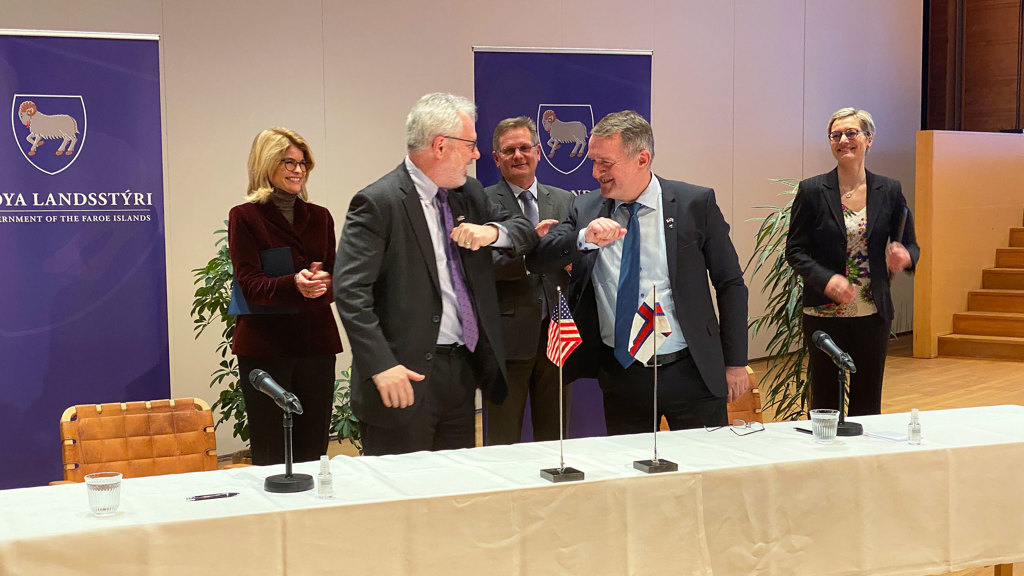 1 / 3
The Faroe Islands and the United States of America have today signed a Partnership Declaration, which provides the first framework of its kind for increased bilateral cooperation.
The Declaration, signed in the Faroese capital, Tórshavn,  is the result of the commitment made between US Secretary of State, Mike Pompeo and Faroese Minister of Foreign Affairs and Culture, Jenis av Rana to develop a mechanism for enhancing future relations, when they met in Copenhagen in July this year.
The Declaration was signed for the Faroe Islands by Minister av Rana, and for the USA by Michael J. Murphy, Deputy Assistant Secretary, Bureau of European and Eurasian Affairs in the U.S. Department of State.
"The Faroe Islands have long been seeking to develop stronger, more focused relations with the US.  This Partnership Declaration is therefore a great step forward. It gives us a basis to work jointly with the US to promote more active collaboration in a wide range of areas of mutual interest, including trade, research and education", said Jenis av Rana, Minister of Foreign Affairs and Culture on the occasion of the signing.
"The Faroe Islands are strategically located where the North Atlantic meets the Arctic, a region in which global interest  continues to grow. We give high priority to ensuring close and dynamic relations with all our North Atlantic and Arctic neighbors."
"This also means that a strong partnership with the US is of crucial importance to the Faroe Islands. We share common democratic values with the US, based on the rule of law, freedom of speech and human rights, and the US is a key defender of security in our region."
"I look forward to the development of more active bilateral collaboration in many different areas between our countries in the future, with today's Partnership Declaration as our new starting point", said Jenis av Rana, Minister of Foreign Affairs and Culture.
See: PARTNERSHIP DECLARATION between the United States of America and the Faroe Islands concerning Increased Cooperation
Media enquiries: Páll Nolsøe, Communications Adviser, Ministry of Foreign Affairs and Culture
palln@ummr.fo . Tel. +298 551028