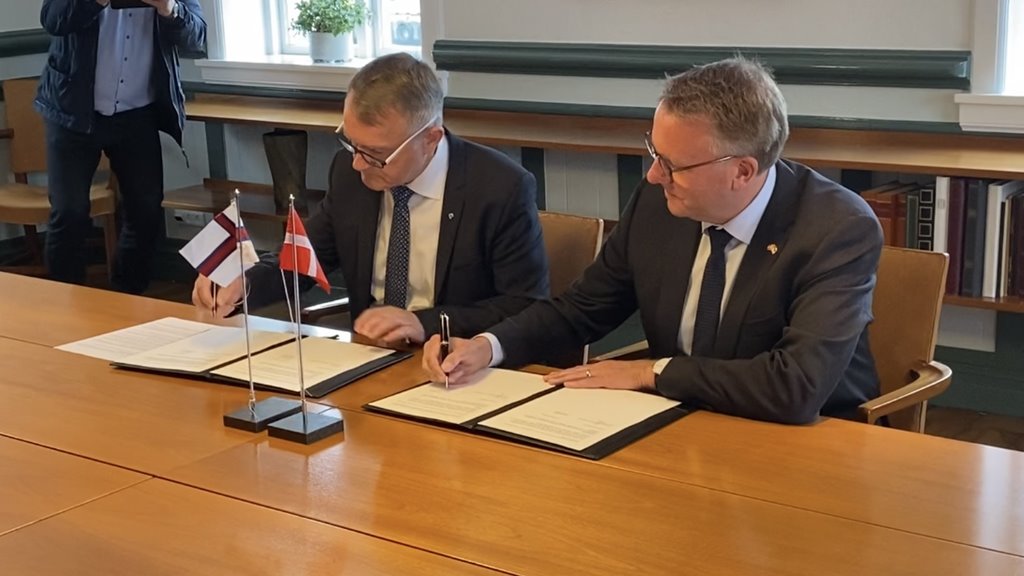 Minister of Foreign Affairs and Culture, Jenis av Rana, and Danish Minister of Defence, Morten Bødskov have today signed an agreement between the Governments of the Faroe Islands and Denmark regarding the establishment of an air surveillance radar at the summit of Sornfelli, Faroe Islands. Sornfelli is a former radar and communication installation which was last active in 2007-8 and which is part of the Faroese Government's property portfolio.
The new radar will close surveillance gaps in the air space between the Faroe Islands, Norway, Iceland and the United Kingdom.
After a series of consultations with the Parliament's Foreign Affairs Committee and discussions with the Danish Government, the Government of the Faroe Islands has decided to go forward with the proposed plan.
The air surveillance radar will be part of the Danish Government's Arctic capabilities package aimed at increasing situational awareness in the Arctic and the North Atlantic. The package also includes, among other elements, long-range surveillance drones which can also be used to assist search and rescue at sea.
The planning process will involve joint meetings of Faroese and Danish officials and relevant experts, with progress reported regularly at the political level, allowing for Faroese requirements to be taken into account along the way. Faroese companies will have equal opportunity to offer all relevant services in connection with both the construction and the daily maintenance of the installation.
"The security environment is changing, and we are facing a new reality on the world stage that will also have repercussions for the High North. The strategic position of the Faroe Islands in the GIUK-gap is a major aspect of our security considerations. With today's agreement to locate a new radar at Sornfelli, the Government of the Faroe Islands underlines its desire to close security gaps by helping to improve air surveillance in our skies. We see this as an important contribution to the maintenance of peace and stability in the region, in support of NATO's deterrence and defence objectives," says Minister of Foreign Affairs and Culture, Jenis av Rana.