Flag of the Faroe Islands
The Faroese flag, known in Faroese as "Merkið", has a unique 100-year history.  First designed and raised as a national banner in 1919, it was officially recognised by the British Government on 25 April 1940 as the ensign of the Faroe Islands, shortly after British troops occupied the Faroe Islands during World War II.
The 25th of April is celebrated as Flag Day and is a national holiday in the Faroe Islands. In the United Kingdom, Faroese Flag Day has often been used as an occasion to highlight and celebrate the close historic ties between the Faroe Islands and the United Kingdom and the many lasting connections established during the war years.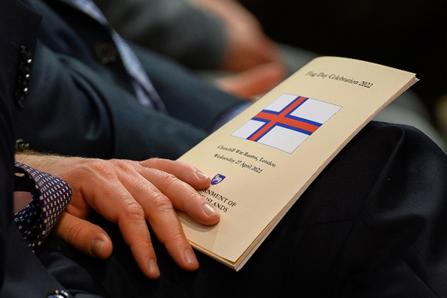 In 2022, a special Faroese Flag Day event in London was held at the Churchill War Rooms with a focus on the legacy of the British war-time occupation and its contribution to the breadth and strength of Faroese-British relations today.
A summary of the event with speeches and photos is available here.
A special reprint of Volume 1, No 5 of FANFAROE - the Faroe Islands Force Magazine was also produced for the occasion. Five numbers of FANFAROE were written and published in 1942 and 1943 by British troops stationed in the Faroe Islands.
The Representation of the Faroe Islands in London receives many individual requests for some form of the Faroese flag. Unfortunately, the Representation is unable to respond to these requests, but interested collectors can contact commercial suppliers in the Faroe Islands, such as bookshops and souvenir shops.
Read more about the history of the Faroese flag here.