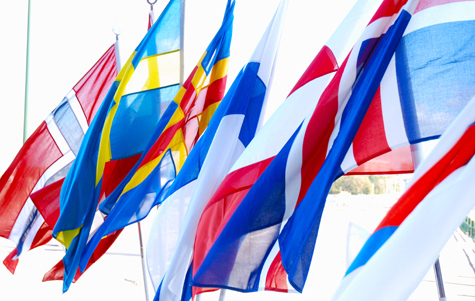 Nordic & North Atlantic cooperation
The Faroe Islands actively participate in the multilateral Nordic Cooperation established by the Helsinki Treaty. The treaty has established a close cultural cooperation among the Nordic Countries, established a common labour market, abolished passport control and provided for close cooperation regarding social services and access to schools and universities.
Nordic and North Atlantic cooperation is an area of high priority for the Faroe Islands. As a Nordic nation, it is important for the Faroe Islands to play an active part in the on-going processes to enhance cooperation across the Nordic region, placing a particular emphasis on the West Nordic area and stronger partnerships with countries around the North Atlantic.  


Nordic Council of Ministers
The Faroe Islands have an active role in the Nordic Council and the Nordic Council of Ministers as a self-governing nation with independent representation.
The Foreign Service of the Faroe Islands coordinates Faroese participation in the Nordic Council of Ministers through the Nordic Committee of Senior Officials and represents the Faroe Islands in the Nordic Expert Group on Sustainable Development, the Nordic Committee on Regional Policy and the Nordic Committee on Arctic Cooperation.
Kaj Leo Holm Johannesen, Minister of Health is Minister for Nordic Co-operation (MR-SAM)
For further details, see www.norden.org


NORA – Nordic Atlantic Cooperation
NORA is an intergovernmental collaborative agency and project-based facilitator, operating under the Nordic Council of Ministers' regional political collaboration program. NORA works to stimulate and facilitate transnational collaboration, based on Nordic goals and values. NORA's work is financed by the Nordic Council of Ministers, supplemented by grants from participating countries/regions. These are the Faroe Islands, Greenland, Iceland and the west coast of Norway. The NORA Secretariat is hosted by the Government of the Faroe Islands and is situated in Tórshavn.
For further details, see www.nora.fo


Northern Periphery Programme (NPP) The Faroe Islands is a participating region in the Northern Periphery Programme, which is part of the European Commission's Territorial Cooperation Objective. The programme aims to help peripheral and remote communities on the northern margins of Europe to develop their economic, social and environmental potential. In addition to the Faroe Islands, the EU Member States of Finland, Ireland, Northern Ireland, United Kingdom and Sweden are a part of NPP, as well as and Non EU Member States Greenland, Iceland and Norway.
For more information, see: www.northernperiphery.eu